American National Insurance Company
(ANICO)
American National Insurance Company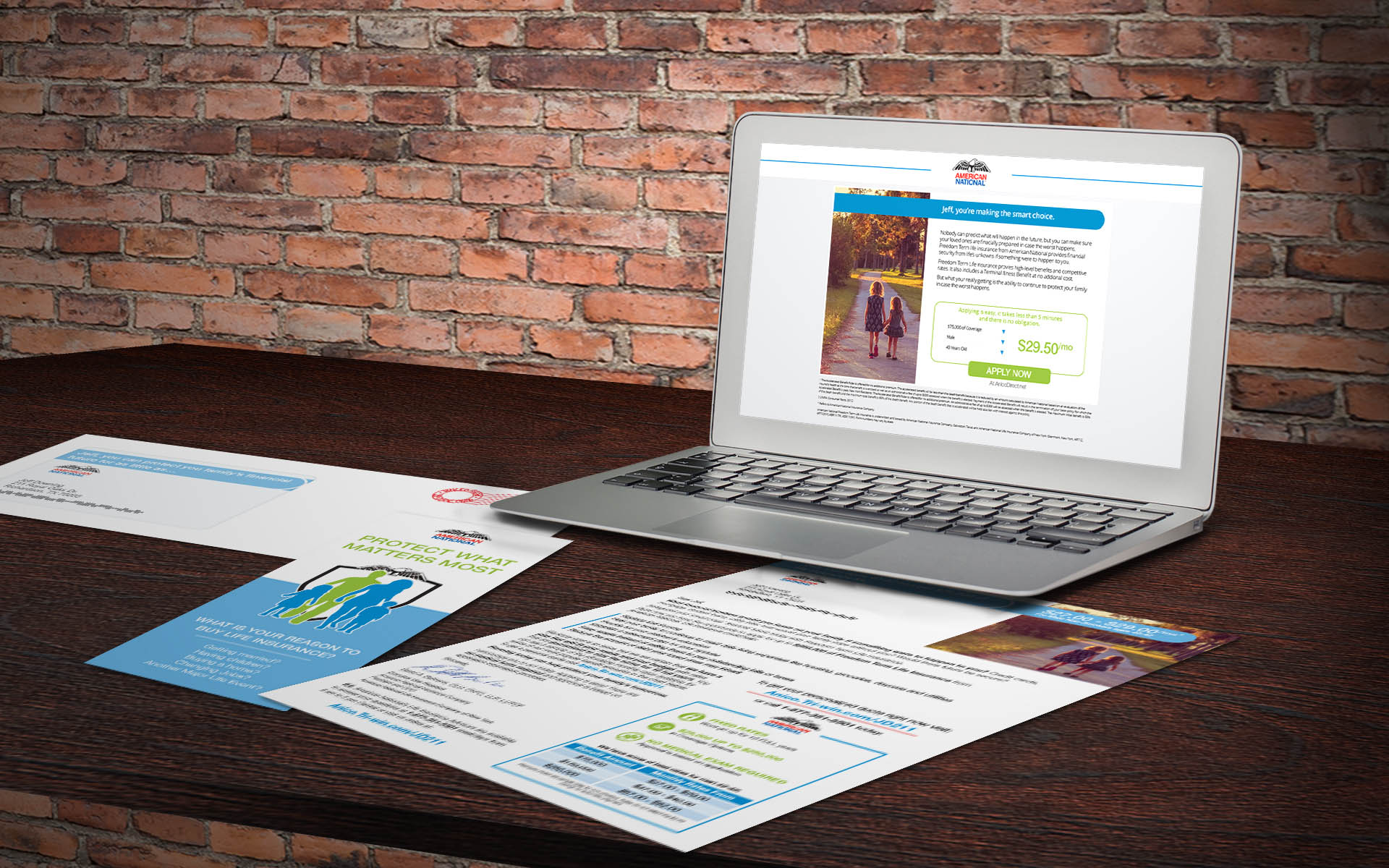 American National Insurance Company (Anico)  ranks among the largest of life insurance companies in the United States. After mailing the same direct mail package for years their response rates started to suffer a serious decline and they started mailing less. As a response to their declining numbers, we proactively created a new package designed to decrease their acquisition cost.
We had three goals. First to simplify the initial impression and make the product more approachable. Second, reduce the per package cost to Anico. Third, to provide good leads to their sale teams faster.
Thier previous package was designed around giving the reader every possible scrap of information all at once. Basically overloading the reader with content. It included a long format 2-page letter, an 8-page saddle-stitched brochure, multiple inserts, and a reply envelope. The reader would repsond by traditional mail, phone, or generic landing page.
We felt that receiving all of that information as part of an acquisition piece was intimidating and confusing. By using variable digital printing and selective inserting we were able to personalize each mailer based on age, gender, location, and known life event to provide each recipient with exactly the information that was applicable to them. This made the mailer easier to understand and allowed us to reduce the amount of material we needed to mail.
Our new simpler package included a single page 2-sided letter and a 1-page brochure. The goal was to get the reader to respond by phone or by visiting a personalized URL. We intentionally excluded the reply by mail option to reduce the amount of material sent and drive people to reply in a way that allowed Anico to capture hot leads faster.
My Role in this Project:
Creative Concept
Design
Marketing Strategy
Additional Team Members:
Andy Chagan – Sales
Brad Yeager – Web Development
Anico Letters
The letters are personalized based on age, gender, and any known life event to keep the message as targeted as possible.
Anico Brochure
A simplified version of the original brochure using graphics and formatting to present the complex concept of insurance in easy to understand "Bite-Size" chunks.
Anico pURLs
By using a pURL as a response tool we were able to make sure the same pricing and messaging were displayed for each person who responded. It also was able to let the Anico sales team exactly who responded so they could follow up even if the responder didn't convert. We also included a drop-down menu to allow recipient so explore other cost options to customize their experience.