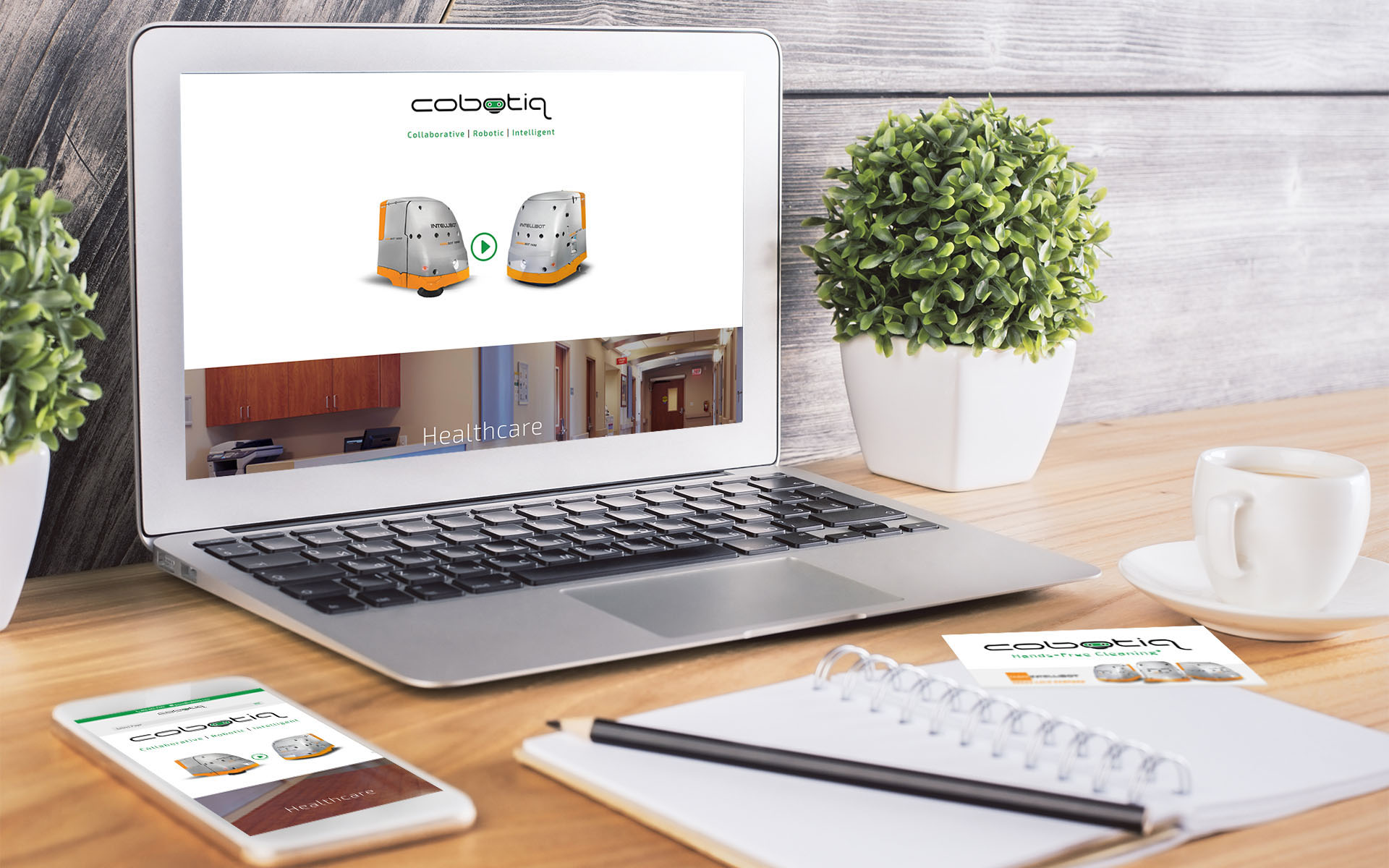 Cobotiq is a start-up company that sells autonomous robots to the service industry. As newcomers entering a still developing yet highly competitive market, Cobotiq wanted to make sure they sent the right message with each customer impression.
I was tasked with creating the entire company brand identity from scratch.  Using simple color pallets, generous use of white space and an anthropomorphic logo, I created a brand impression that is both high-tech and user-friendly.
My Role in this Project:
Creative Concept

Design

WordPress Development

Project

Management

Brand Identity
Additional Team Members:
The owner of Cobotiq wanted a website with a clean look that provided a basic overview of the product. The goal of the website is not to sell the product. We just want to create enough interest to drive someone to contact Cobotiq and set up a sales appointment.
Business Card
Cobotiq is a licensed dealer for a line of autonomous robots so my client wanted a card that builds the Cobotiq brand, but also leveraged the name recognition of the Intellibot brand.
Logo and Logo Mark
When you think of a robot you probably think of C-3PO from Star Wars or Optimus Prime from Transformers. You don't often think of a vacuum cleaner or a floor sweeper. Odd, boxy looking machines don't capture the imagination of most people. Cobotiq's mission is to change that and they needed a brand impression that would reflect that mission.
With sleek, modern lettering and an anthropomorphic letter "o" that draws the eye of the consumer, Cobotiq's brand shows an intelligent, technology focused and approachable company ready to widen the imagination.
Social Media Headers
Social media is an expected contact point for every company in today's market. Even for a B2B enterprise like Cobotiq, professional appearance in on social media is important.