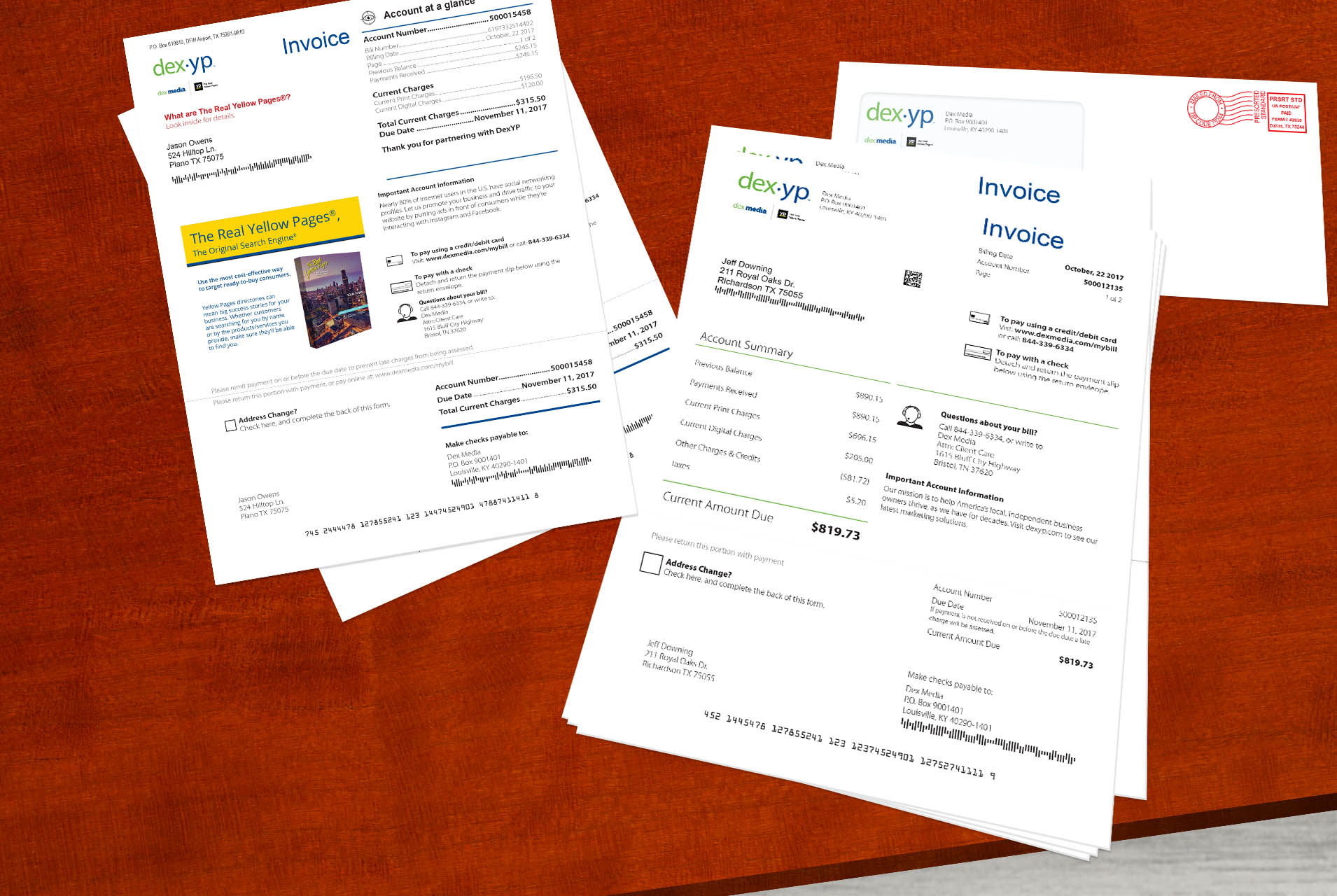 Dex Media acquired The Yellow Pages at the end of 2017 changing their name to DexYP. Part of the challenge involved in merging both companies was creating a cohesive billing statement that was able to display the products from both companies in a clear and concise way.
Initially, DexYP used their own internal resources to create a billing statement, but the resulting layout was not very successful. The new format was confusing so the inbound call volume increased and the average number of pages the company needed to send out per bill increased rasing their print costs. The increased cost and confusion left DexYP looking for a better solution.
To solve their problems I designed billing statements that focus on one goal above all others – provide important information clearly and concisely.
The first and most important function of the statement is to communicate account information to the reader. To do this the piece was designed so that specific sections completed specific functions. All the account information is available at a glance in a single area. The bill pay options that don't involve contacting customer service are grouped in a prominent location and positioned so they are noticed before the customer service number. Finally, the detailed billing information was grouped on the on the back of the page and extensively reworked using complex variable data printing so that customers only see information that is specifically relevant to them. This makes the information clearer while limiting the average number of pages printed and printing costs.
The secondary goal of each of these statements was to find a way to monetize a mandatory transactional mailing. To achieve this the back of each statement has a variable"on-sert" section. Using customer data DexYP can present personalized marketing messages to each of their customers providing an opportunity to recover some of the cost of printing and mailing mandatary billing statements.
Additional Team Members:
Russell Honeycut – Data Manager
Brian Sterling – Sales / Customer Contact
Billing Statements
Personalized billing statements designed to provide a customer exactly the information they need in a clear concise way.
Billing Statements ( Alternate Version)
This is another version presented to DexYP. This version placed a heavier emphasis on marketing by putting the variable "on-sert" on the front and adding a variable teaser designed to show through the window of the envelope.