Ricoh 60000 VC Superman Vinyl Skin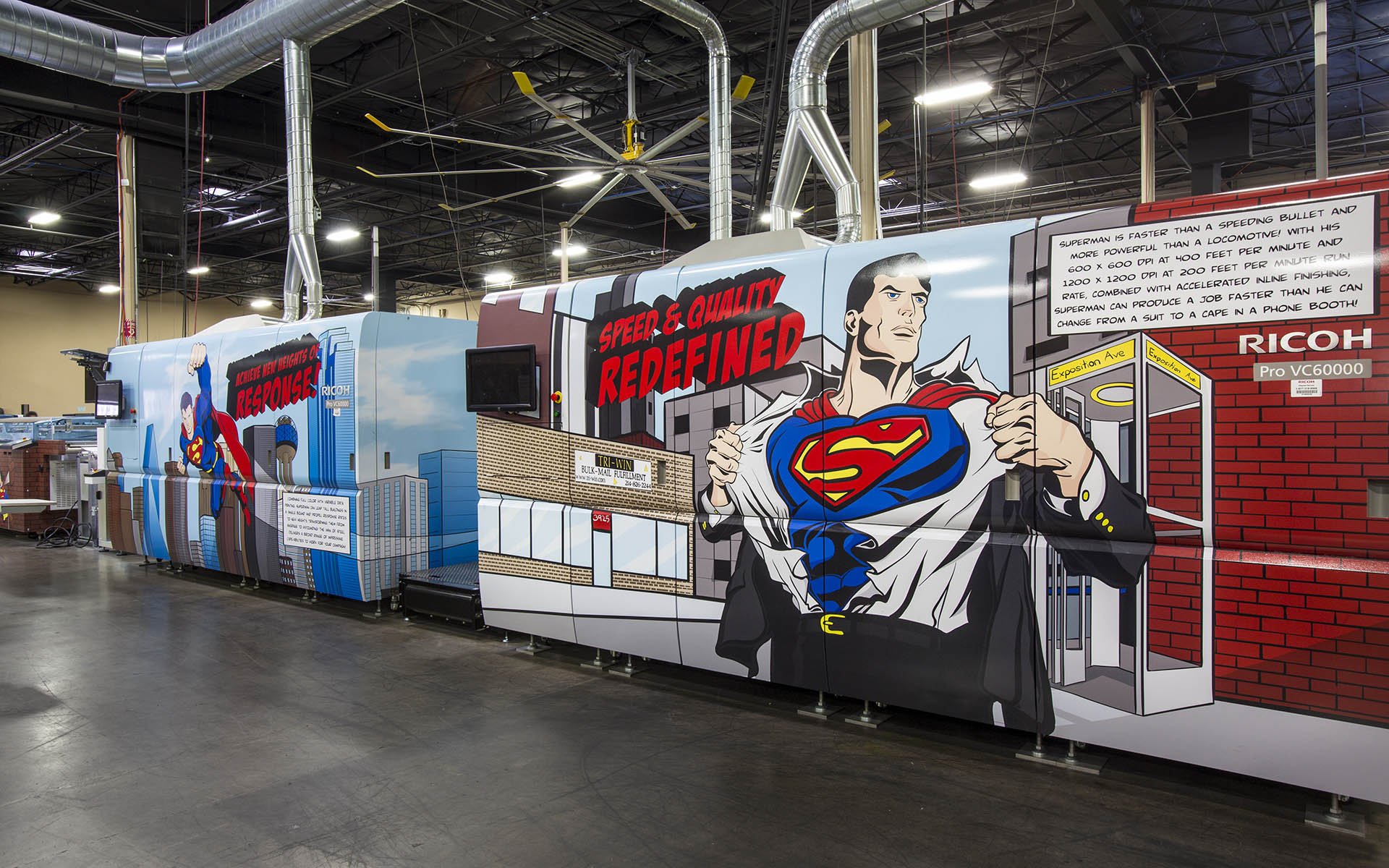 After installing a new cutting-edge inkjet Ricoh VC 60000 printer in January 2016 it became obvious that this printer was far superior to nearly every other digital printer on the market. The benefits and cost savings the innovative technology provided the company and its clients earned the printer the nickname "Superman". In June of 2016, I started hand illustrating vinyl wraps so we could skin the printer with scenes of its namesake. All the graphics are hand drawn vector graphics using a Wacom tablet and Adobe Illustrator.
My Role in this Project:
Creative Concept
Design
Project Management
Illustration
Additional Team Members:
Becky More – Creative Consultant
Brian Sterling – Copywriting
Print Engine 1
When drawing all the separate illustrations for this project we wanted to do 2 things.
First, we wanted to create something with a huge wow factor that would impress clients as they toured our production floor.
Second, we wanted to tell a story of Tri-Win loosely disguised as comic panels.
This illustration depicts the transformation of a mild-mannered reporter into a superhero. Or depending on how you look at it, a small mail shop transforming into a direct mail power house. The background tells a parallel story by referencing the three previous locations that Tri-win outgrew since 1996.
Print Engine 2
This illustration depicts our hero in all his glory flying over the Dallas skyline.
The Story of Tri-Win is reflected metaphorically showing that Tri-Win has completed its transformation and is ready to protect all the business in DFW.
Perforator
Taking on a more literal approach to the art this panel shows our hero perforating a brick wall on a machine that perforates paper.
Unwinder / Winder
A pair of 3 similar machines. The illustrations on these devices reflect 2 themes. The cutting-edge technology of the Ricoh VC 60000 is represented by a gear background and the printing capabilities with the newspaper foreground.
Cutter
This is the machine that cuts the printed pieces from the rolls of paper with "laser" accuracy.
Stacker (foreground)
The last step of the printing process. The cut pages are stacked so they can be moved to other areas of the shop.
Waste Collection (Background)
The illustration on the waste collection shows our Hero protecting the planet.